Five Reasons to Considering Hiring a Senior Move Manager (SMM)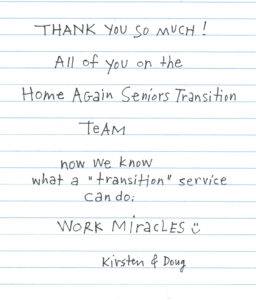 Five Reasons Why Hiring a Senior Move Manager is a Good Idea:
Sometimes it seems like there's a lot of money flying out the door at one time when you are paying for realtor's fees, legal fees, down payments, damage deposits and the like.  It's natural to look for ways to cut expenses.  But a Senior Move Manager's (SMM) job is to create efficiencies in the move process.  We always say "moving is not exactly rocket science" but using an experienced SMM can be extremely helpful and reduce your costs in a number of ways including:
1)    By doing things efficiently – Experienced move managers know how to structure your downsizing and moving to maximize your and others' time.  
2)    By avoiding having to ask children or other relatives who live at a distance to have to fly in to assist.  There is a cost to travel and take time off work that should be factored when trying to decide to enlist the help of children or to reach out to a local professional for assistance.
3)    By being well resourced – SMMs have access to trusted professionals you may require as part of your move (movers, yard maintenance, carpet cleaners, window washers, realtors, etc).  They can save you some headache by connecting you to people they trust.
4)    By helping you to access auction services and private buyers for items you wish to sell.  There will likely be a lot you won't take with you, so the more you can sell, the more you can offset the costs of your move.
5)    By getting the job done quickly so your current living space can either be sold without delay or if you're currently in a rental, so you don't have to pay for your old space for longer than necessary.  If you're downsizing and taking only a portion of items with you, it can be a long, onerous process to deal with all the leftover contents without some assistance. SMMs have the people, processes and resources to get your project done efficiently and effectively.