You're moving.  And you're stressed!  SO many things to think about and do.  Its no surprise that moving can be difficult for pets, too.  Strange people, strange noises and a sense that you're stressed.  Here's how to make it easier for your best friend!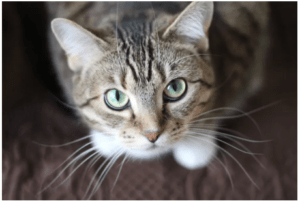 Make sure you have a plan for your pet.  One of the best things you can do is remove him from the situation altogether.  Have him spend a few days/nights away from the chaos of the house.  If you have place he's familiar with for boarding when you are on vacation, or a family member that he knows, send him there until you can bring him to your new home.  If you cannot remove him altogether, close him into a room where he feel safe with toys and blanket.  Post a BIG OL' NOTE on the door that there is a pet inside so no one inadvertently lets him out.
Make sure you set aside a go bag for her.  Include a leash, extra food and medications, blanket and crate if it's a comfortable place for her.  If additional supplies are going into the moving van, mark the side of the box with a large "X" in green painter's tape.  This will help you quickly locate important items at the other end.
Be sure to have updated tags on him or have updated the information associated with his microchip.  If he gets scared and runs off, or if someone accidentally lets him out during the move, you'll have a better chance of tracking him down.
If you're moving out of the area, pick up veterinary records and ask your vet for a recommendation.
Don't wash bedding/litter boxes/toys before you go.  Put them into a garbage bag if necessary but familiar smells will reassure her once she gets to her new home.
Be kind.  Know that this transition is as hard on your pet as it is on you.  A few extra treats and snuggles will help both of you to feel better.